Mums across Australia should get their vases ready on Sunday, 13 May, as 27 percent of children have revealed that flowers are their top choice of gift for mum, according to a new Pureprofile survey.
In contrast, the majority of mothers (34 percent) who responded to the survey said their number one "gift" would be the gift of time, spending the day with the family or receiving a personal acknowledgement of some sort.

The survey also revealed a list of the most loathed and loved gifts, however, overall most mothers (51 percent) said they are always happy with their gifts.

No matter what you do this Mother's Day, make sure you don't forget! Almost a quarter of mums (23 percent) said that their biggest disappointment would be to be forgotten, and receive no gift or acknowledgement on the day.

The survey also highlighted mothers aged 45+ value hugs and acknowledgements as their number one desired gift, while mothers aged 25 to 44 crave a handmade gift from their kids, and mothers aged 18 to 24 mostly wish for flowers.

For those considering a last-minute shop, mums' top 5 likes, dislikes.. and the top 5 most planned presents are: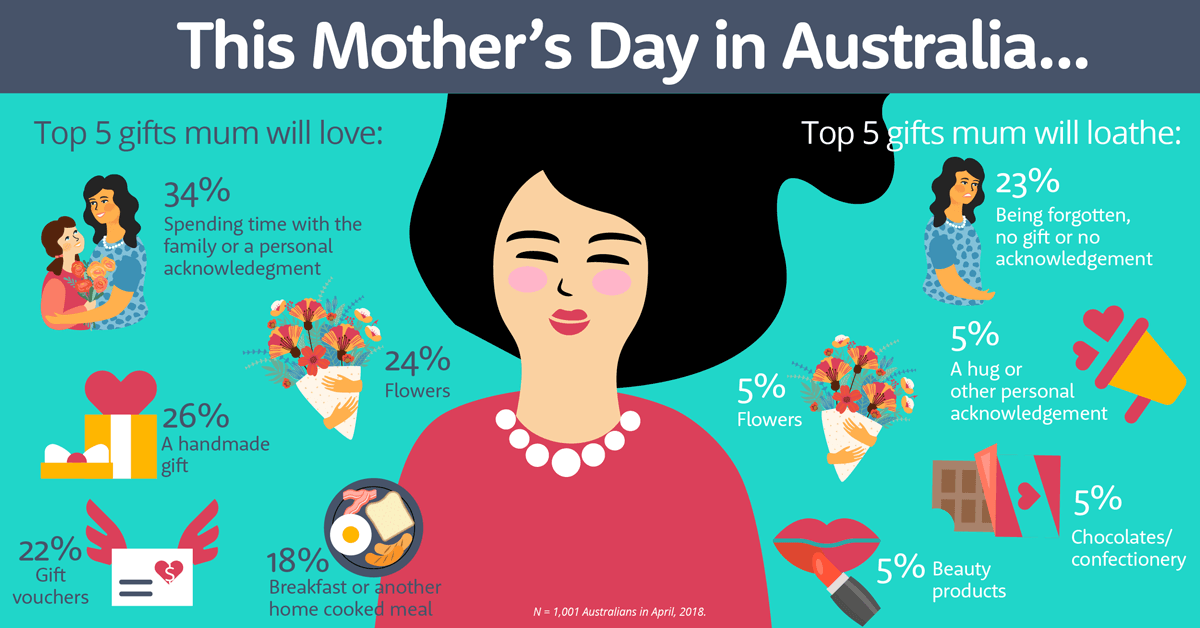 Mum loves:
(1) Spending time with the family or a personal acknowledgement (34%)
(2) A handmade gift (26%)
(3) Flowers (24%)
(4) Gift vouchers (22%)
(5) Breakfast or another home cooked meal (18%)
Mum loathes:
(1) Being forgotten, no gift and/or no acknowledgement (23%)
(2) Just a hug or other personal acknowledgement (5%)
(3) Flowers (5%)
(4) Chocolates/confectionery (5%)
(5) Beauty products (5%)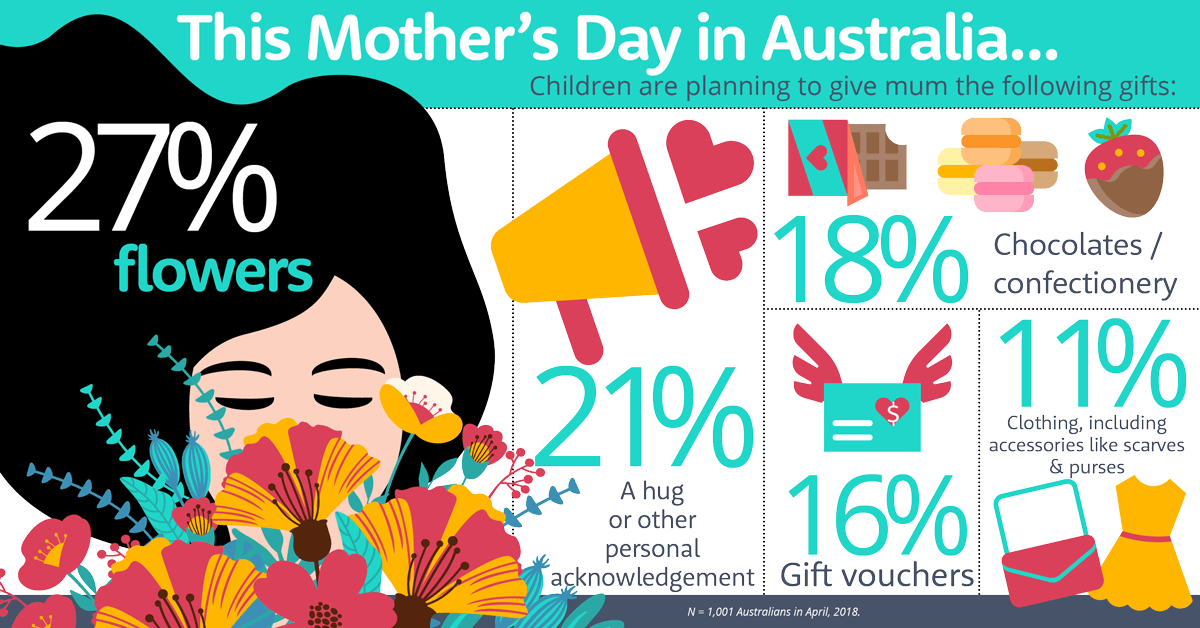 What children are planning to give this year:
(1) Flowers (27%)
(2) No presents; just a hug or other personal acknowledgement (21%)
(3) Chocolates /confectionery (18%)
(4) Gift vouchers (16%)
(5) Clothing, including accessories like scarves & purses (11%)

Methodology – Results are from a survey of 1,001 Australians in April, 2018.
SHARE THIS INFOGRAPHIC ON YOUR SITE