For millions of people around the world, the upcoming coronation will not only be a historic occasion, but one that many of us will witness for the first time. Queen Elizabeth left behind a lasting legacy, and with Charles' ascension to the throne it has once again reopened debate about the future of the monarchy and the role it plays in international affairs.

As Head of State for the UK and the Commonwealth, how much value does King Charles and the British royal family bring? Is the monarchy an outdated and unnecessary concept and should it be slimmed-down to fewer working royals?

We asked 2,094 people, taken from nationally representative samples from the United Kingdom, Australia, New Zealand and the United States, about their views on the British monarchy since Charles became King, and whether there is still a place for it today.
Here's what we found:
Brits (51%) and Americans (47%) are the most interested in news on the British royal family.

US interest has increased by 20% since 2021, and more than ¼ of Americans are very interested in news on the royals today.

4 in 10 Aussies and Kiwis believe the royal family is outdated and not relevant.

Almost ⅗ of Brits think the royal family is changing with the times and carries out important duties.

Half of Brits and Kiwis will watch King Charles and Queen Camilla's coronation on TV, compared to 41% of Aussies and only 28% of Americans.

Almost ¼ of Brits feel more supportive of Charles since he became King.

About 4 in 10 Americans believe the monarchy should be abolished, compared to fewer Aussies (32%), Kiwis (27%) and Brits (20%).

The infographic below represents the key findings from the research: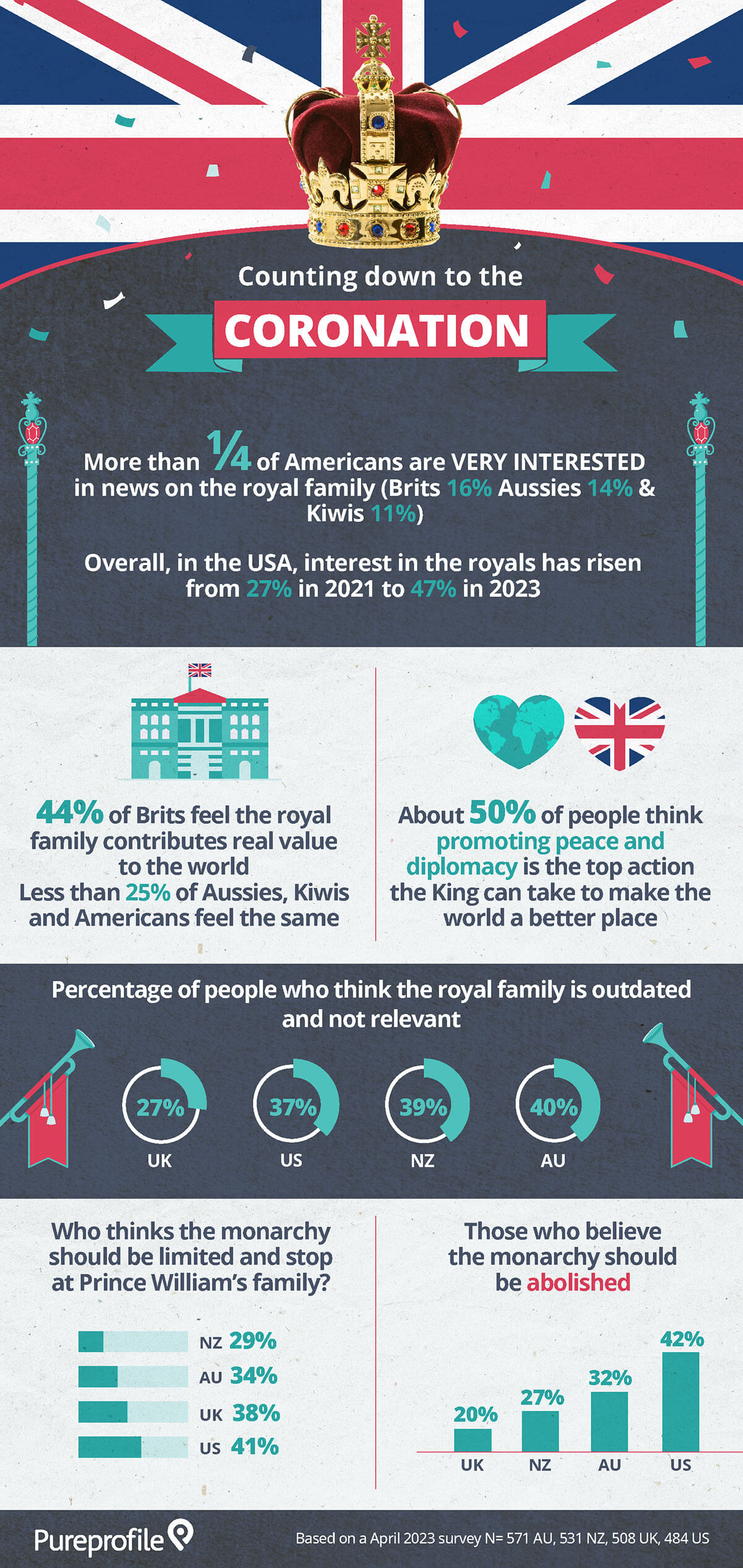 Share this infographic on your website